Section I: Updates from councils
Section II: Guild rumblings
Section III: GoR-geous featurette
Section IV: Movie Quotes
Section V: Brain Teaser
Section VI: GoR-geous Guy and Gal
Section VII: GoR-geous 3 stars
Section VII: Credits

Section I: Updates from councils
Every issue, there will be updates from each council with a discussion of what's been going on and what's going to happen in the near future. Keep in the loop of things and read up!
Hunters:
Last week, we ran Corsty in addition to Cato, which was mentioned in the previous issue. The day began slow, but with only 4 thieves showing up, the odds were stacked against us, but still managed to kill Corst 9 times. A special shout out to all of those newer Rangers trying out Corst for their first few runs. Corst is definitely a difficult first run and from what I was told, you guys did great!
This past Thursday, Lilardy led a Wicedien run. Meredin, Halvak and Lilardy each tanked once to take home a set a piece. Being led by the nature-girl, Lilardy, the run went flawless as there were no deaths. A big congrats goes out to Meredin, Halvak and a huge WooOOoOOOoo for Lilardy! Way to go, Rangers!
This week, there were a total of 7 Cato kills. There was 1 tusk pop for a lucky Ranger in the future to sac, 3 cinches, and 3 armors. There were only 3 corst kills this weekend. Let's bring a better turnout to Corst so this run stays alive!
Next week, there is going to be a Cato run. There might be a Corsty run on Sunday as well! Lets try to have a better turnout of thieves so our tank doesn't have to do like the French army and flee! (For those Rangers from France, I apologize in advance, but it's true!)
IGQC:
There will be a meeting tomorrow to discuss upcoming matters. Stay tuned for updates!
RQC:
RQC recently recruited Derako and Jach. Just read through Meredin's quest and it includes having a hawk sing to him! No wonder he said, "Meredin tells you 'Ask Threndil, he's been the busy one lately... everyone I give quests to never come back'"!
Mentors:
Everybody please welcome our newest member in the guild: Sizeth! He's an av dwarf Ranger, so I guess he has Gimli's beard and Aragorn's hair.. hehe.. Anyways, Meredin interviewed our newest member in the GoR-geous featurette. Check it out!
CoR + CoL:
The guild meeting has been posted in the Silverwolf forum. If you don't have an account yet, mudmail Siporta and he'll fix you right up!
Gauther and Lilcal have set up an intra-guild PK tourney. Gold prizes, provided by the guild bot, will be awarded to the top three winners. Read the noteboard for the rules and times. Don't forget there will be an IGPK this week as well, with GoR teaming up with GoV against GoW & GoC.
Section II: Guild rumblings
Each issue, we will fill you in on the latest happenings in the guild. Not there for a funny occasion and you want to be filled in on the latest gossip? This is the section for you!
Team Canada (men's hockey) lost TWICE this weekend! Quinn should be shot 'cause he can't even win with an all-star team on the ice. You know it's bad when you can tell that the other team is winning solely due to their coaching (The Finn's disciplined trap is what killed em). Anyways, I do realize this has nothing to do with Realms, but it's the Olympics so this rant applies worldwide. Also, the main reason is that its now past midnight and I have to wake up early tomorrow.
Section III: GoR-geous featurette
Each issue, there will be a new featurette so you can get to know a guildy a little more. There will be a little favouritism towards new members since it would be helpful to get to know the newer ones first. However, if you want to be in the next featurette, feel free to ask a fellow guildy to interview you and they can ship it off to me.
Sizeth is a BRAND NEW ranger to our tree. SO new, that he's not even corrupted yet! As I type in this word, he's only been in the guild for 2 days! Special thanks goes out to Meredin for doing this interview. Anyways, I thought it'd be great for you guys to meet him:
You wonder 'What's your favorite topic?'
Sizeth says 'Women! :)'
You say 'how many chars you got'
Sizeth says 'about 25'
You wonder 'Why did you come to join GoR?'
Sizeth says 'To meet more players, do some runs and have fun.'
You wonder 'Do you like to so far?'
Sizeth says 'Yeah, everything seems pretty chill.'
You wonder 'Who's been nicer, RQC or Mentor?'
Sizeth says 'No comment! :)' (Editor: Please note that Sizeth has only been in the guild for 2 days, so this is an unfair question. Meredin will be severely punished and we have confiscated his beloved skeletal hand. Please don't tell him though!)
You wonder 'What one thing would you like to see done in or by the guild?'
Sizeth says 'I really haven't been a member long enough to have any ideas what I would like to see changed or done.'
You say 'You belong to other organizations? (don't have to answer, of course)'
Sizeth says 'Yeah, Arcanes and GoM'
You say 'What's the coolest thing you've seen yet in Realms or about the guild'
Sizeth says 'probably the barbarian mobs and town. It's quite alot of fun, much different from playing any other class.'
This issue's second interview was with Zylara. I've had the pleasure to talk to her quite abit in the past, so I thought that I'd give you all a glimpse of some of the Zy-love:
Interview with Zylara:
You wonder 'Hi Zylara! If you had to pick one thing about this guild that you like most, what would it be?'
Zylara says 'all the cool peeps that are here willing to help anyone and everyone in need'
You wonder 'and for the fun part... what do you like least?'
Zylara thinks, 'Hmmmm.'
Zylara says 'Mossy spammy lowbie ranger gopher'
You wonder 'You're pretty new to this guild, but you also seem older than me by years =p when did you start?'
Zylara says 'I started mudding here in these realms in 1994'
You wonder 'Wow.. thats a long time.. does that mean you're rich?'
Zylara has never been rich.
You gently pet Zylara.
Zylara hugs you.
You wonder 'not rich or a liar?'

As you look at this woman, she looks up and smiles, then
goes back to digging through a large rucksack. She is
a petite woman with hazel green eyes. Her hair is brown,
long, curly, and unkempt. She is mumbling something about
an item for a newbie.
Zylara looks to be about 5'3", and looks to be around 120 pounds. Her shoulder
length, curly brown hair handsomely frames her face. Her dark brown skin
creates a soft match with her hazel eyes.
Zylara is in perfect health.
Zylara is using:
<used as light>      Crusade
<worn on finger>     the Ring of Kings
<worn on finger>     the Ring of Kings
<worn around neck>   (Glowing) a golden torque
<worn around neck>   (Glowing) a golden torque
<worn on body>       (Glowing) (Humming) a dragonscale breastplate
<worn on head>       (Glowing) Crown of the Ages
<worn on legs>       godskull shinguards
<worn on feet>       moccasins
<worn on hands>      (Glowing) Blessed gauntlets of the Templar
<worn on arms>       a set of dragon scale sleeves
<worn about body>    (Glowing) the Cloak of Royalty
<worn about waist>   (Glowing) (Humming) a dragonscale girth
<worn around wrist>  (Humming) the bracer of Dantrag Baenre
<worn around wrist>  (Glowing) (Humming) a Bracer of Light
<wielded>            (Glowing) (Humming) Justice
<held>               a flying broom
<worn on ears>       a crystalline teardrop
<worn on eyes>       a bloody eyepatch
<worn on back>       a thick piece of lizard hide
<worn around ankle>  a frog's tongue
<worn around ankle>  a frog's tongue

Zylara says 'not rich....never had a bil'
You say 'okay, so you're not a liar =p'
Zylara says 'I never lie'
Zylara looks innocently about herself.
You wonder 'Besides realms, what else do you like to do?'
Zylara says 'I like to do crafting and sewing and quilting'
Zylara says 'or play any RPG on any type of system'
You say 'that's something I can follow up on...'
You wonder 'Whats your favorite RPG?'
Zylara says 'Ultima serpent isle'
Zylara says 'loved all the Ultima games'
You say 'The only one I played was Exodus on the NES'
Zylara says 'tis where I first came up with my name'
Zylara says 'underworld one was the first game I played on my first computer....and I was hooked'
You wonder 'underworld.. mmm... did that have Kate Beckingsale too?'
You drool on yourself.
Zylara says 'not that I remember....Ultmia Underworld 1'
You wonder 'are you currently a student or in the workforce?'
Zylara says 'I am in the working class...I work at IBM as a computer operator at the help desk'
Zylara says 'called store support team'
You exclaim 'okay, thanks for your time! Now you can go pway with Bammy.. make sure you mount him! '
You wink suggestively at Zylara.
Zylara hugs you.
Zylara seems to get a laugh from something saying, "heh heh heh".

Section IV: Movie Quotes
Depending on the popularity of this section, we will see if this will appear in every issue. Given its recent success in the Silverwolf forums, I think that this should be a hit. Be sure to tune into the next issue of "The GoR-geous Times ©" for the answers!
Answers from last week:
1. Bruce Campbel in Army of Darkness
2. Faye Dunaway in Mommie Dearest
3. Harvey Korman and Mel Brooks in History of the World part 14.
4. Clint Eastwood in The Outlaw Josie Whales
5. Micheal Palin in The Life of Brian
6. Jeff Bridges in The Big Labowski
7. Damon Wayans and some guy who's name I can't remember in I'm Gonna Git You Sucka

Please tune into the next addition for MORE movie quotes!
Section V: Brain Teaser
Each issue, there will be a brain teaser to make sure that you haven't fried all of your brain cells from the computer monitor. The answers will appear in the next issue, so make sure you tune in! Without further ado, here's this issue's brain teaser:
As a reminder, here was last week's question:
The VP of McDonald's has a very efficient housekeeper. When he left for vacation, he instructed her to forward the mail to him at his cottage (not e-mail). A while later, he hadn't received any mail so he called her to find out what happened. She explained that he forgot to leave the mailbox key behind. The VP apologized and promised to mail her the key right away. A while later, he still hadn't received any mail through the housekeeper told him there was a bunch of letters in his mailbox. When he returned home, he fired her right away for incompetence.
Was he right or unfair – and why?
Answer to Question:
He was wrong to fire her, as there is no evidence of incompetence on the housekeepr's part. Assuming the VP mailed his mailbox key is for home address in the city, and he mailed this same key to his home address, there would be no way for the housekeeper to retrieve the key that he sent as it would be deposited in the already locked mailbox. Instead, he should have mailed his home's mailbox key to another address (i.e. the housekeeper's home or his office) where the key could have been picked up by the housekeeper.
Issue 2's question:
The aging owner of a multi-billion dollar company has decided time has come for one of his sons to inherit his fortune. He calls his two sons, who are both together in a neighbouring city, and tells them to get into their sports cars and race home to their father's place. The one whose car arrives LAST will inherit everything. After travelling at a snail's pace for days, the two sons have barely made it down one block. Weary and tired, they both pull into a gas station and lament about their father's edict. A wise man pumping gas at the station overhears them, and gives them a piece of advice. Upon hearing his advice, the two sons jump into the sports cars and race home at a break neck pace trying to get their father's.
What advice did the man pumping gas give to the two sons?
Section VI: GoR-geous Guy and Gal
As a little bonus for reading through this issue, we've decided to pin up a little eye candy for you guys and gals (eye candy that doesn't have that disclaimer of having to be over a certain age to enter, of course!). Just try not to drool too much on your keyboard because I wouldn't want to be responsible for electrocuting yourself!
This week's theme is the WWE (Formerly known as the WWF). Long gone, are the steroid-soaked soap actors and actresses. The WWE realized a few years that sex sells and they have definitely moved down that route to bring their shareholders a little more ching ching.
Issue 2's GoR-geous Gal :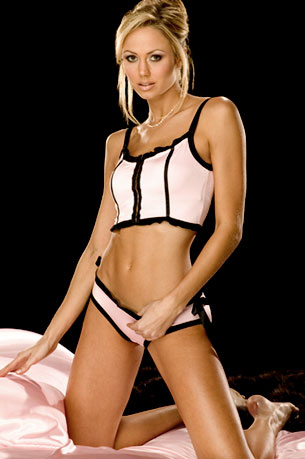 Meet Stacy Keibler. Not only was she a Baltimore Ravens cheerleader, a ballerina and a finalist in "Dancing with the Stars", she also wrestles in mud, egg nog and just about anything else to increase ratings. I know wrestling is fake, but she sure ain't!
Issue 2's GoR-geous Guy: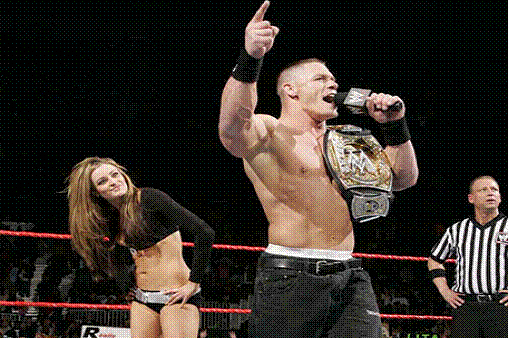 This issue's GoR-geous guy goes to John Cena. Part rapper, part football player, part wrestler, John Cena has taken the media industry by storm. He's come out with CDs, sells insane amount of merchandise and single-handedly sells out wrestling events. Also, please note that us guys get a second dose of a GoR-geous gal, as the gal on the left isn't too shabby! (I guess gals get a second dose of a GoR-geous guy if you count the ref on the right. Looks like Norelle's type!)
Section VII: GoR-geous 3 stars
This section rewards our most active guildies by being heavily involved in guild-related matters. This only represents my opinion and by no means represents the 3 most deserving individuals in our guild. Also, as a little fun, I think I'd keep track of people stars. 3 points is awarded to the first star, 2 points awarded to the 2nd star and 1 point is awarded to the 3rd star. Anyways, here they are:
3rd star
This honor goes out to Lilcal. His continued devotion towards leading runs has kept him up on the charts. His slip was partly due to other guildies stepping up, but could also have something to do with his early exit in the PK tourney =p (jk!)
2nd star
This issue's 2nd star goes out to Lilardy! For leading runs this past week and taking home the PK champ title, she has went above and beyond expectations. 3 cheers for the lil one! WooOOT pixie!
1st star
This week's first star goes out to Gauther! For his continued effort and commitment to improve the guild, setting up that bot we all know and love and for truly shining beyond his role as second.
Power Rankings:
Lilcal – 4 points
Gauther – 3 points
Lilardy – 2 points
Mossweaver – 2 points
Mirrelyn – 1 point
Section VII: Credits
Thank you for reading through the second issue of The GoR-geous Times ©. I hope you're more informed and also enjoyed aspects of it. I would also like to thank all contributors for this second issue. I can't stress enough that if you wish to be a contributor for the next issue, please mudmail me about what you wish to contribute, and I'll get back to you. I want to grow these issues, but due to my diminishing time availability, this is only possible from your contributions. So, for now, this is the Zargonishter signing off. See you soon!